How to Download
The Downloads area is divided into separate sections for "Stocks", "Futures" and "Forex". However, only those sections that correspond to a current subscription (or free trial) will be visible.
Each section contains a program installer (for the relevant updating program) and one or more history installers. For an updating program to work, there must be a corresponding history installed. You will need to download the program installer and the relevant history installer(s) for your data to work.
To download an installer -
Go to the relevant "Section".
Find the row that contains a description of the installer you wish to download.
Go across to the right of the row and click on one of the 4 available servers.
Save the file to your machine when prompted by your internet browser.
Firefox saves the file directly to your designated downloads folder. If you don't know where that is you can check by going Tools > Options > Main > Downloads.

The illustrations below show the download process with Internet Explorer.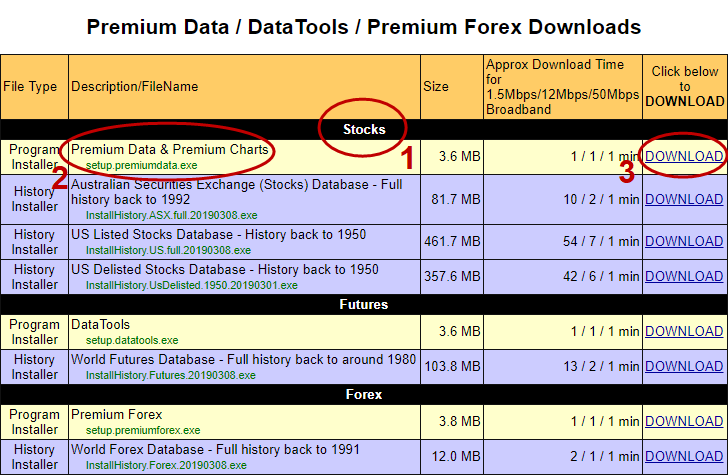 After you have clicked on a server, your internet browser will pop up a message asking you how to handle the file. You should elect to Save the file to a familiar location on your machine. If in doubt as to a suitable location, select your Windows Desktop. The Save process (with Internet Explorer running under Vista) is illustrated below: