HotTrader FAQ
HotTrader is an end-of-day Gann swing charting software package. It is compatible with our Stocks, Futures and Forex data. This FAQ has a number of categories:
Configure HotTrader to read in data from Premium Data


Configure HotTrader to use Premium data
HotTrader can read in data from Premium Data in the "MetaStock" file format. HotTrader v2.08 supports the 2000-securities-per-folder MetaStock format.
Click on File then Open.. You will see the following Open File window appear: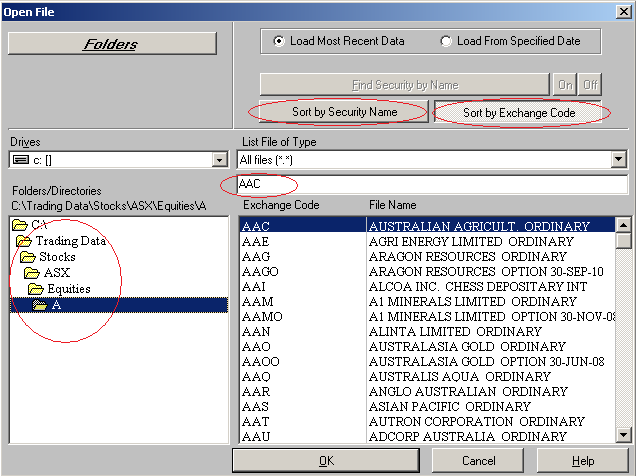 Navigate to the required data folder (e.g. C:\Trading Data\Stocks\ASX\Equities\A) then select the security you want to view then click OK. You can sort by code or by the name by pressing the "Sort by Security Name" or "Sort by Exchange Code" buttons.
Where can I get help on using HotTrader?
HotTrader has a swing trading tutorial that is supplied with HotTrader. For further help see the HotTrader Web Site.